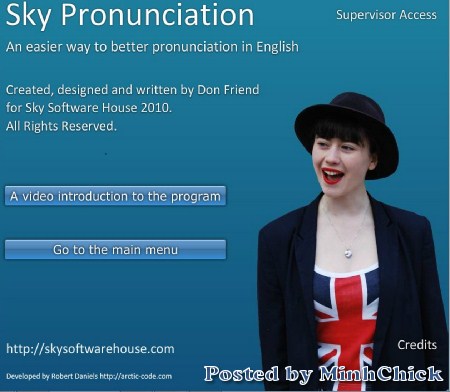 Sky English Pronunciation Portable | 255.74 MB
Type Language
The Sky Pronunciation Suite is the most comprehensive tool for improving pronunciation skills in English on the market.
The program is divided into different sections. These include the video based study and testing of sounds The Phonemic Alphabet in English, the study and testing of similar sounding word sets Similar Sounds, word stress Word and Phrasal Stress, as well as sentence stress, rhythm and intonation Stress and Rhythm. In the last part Rhythms from Rainland, learners can practise listening to and repeating everyday dialogues, poems, funny stories, jokes, etc.
The Sky Pronunciation Suite has a range of interactive features including battleships style and match the word games, waveform and build recording tools, and video and audio repetition sections. Learners can log in and keep a record of their scores and thereby monitor their progress
Download